Home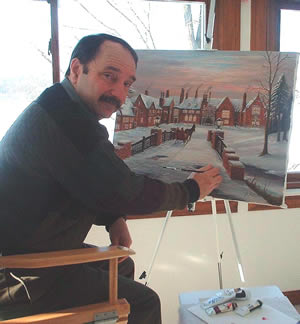 Each year brings further exploration of the media I employ. My paintings are oils on canvas and I use a combination of brush and palette knife technique. Paintings are drafted by brush and the use of layering and glazing methods are used to create effective sutble or contrasting elements as needed. Many paintings include a whimsical element to speak personally to the observer. Photos (past and present) and some research material from the Burton Library have helped me create some of these themes. Some paintings reflect personal experiences and recollections. This work is a continual growing process which gives me personal pleasure and an opportunity to learn new methods of painting that help me redefine places and events in my life.
Background:
Bachelor of Arts Degree (Wayne State University) Instructor-creator of an inner city art program for youth at Grandale Salvation Army Center,Detroit. Prior to retirement, Jim was a casework manager in the area of foster care and delinquency services for the State of Michigan.
Jim is a self-taught impressionist realist painter depicting a style that is partly derived from the study of classical 19th and 20th century American and European artists. Jim worked 23 years as a social worker in foster care and delinquincy prior to his retirement from the State of Michigan. Since retirement he has been an instructor-creator of inner city art programs for youth at Grandale Presbyterian Church, All Saints Community Center and Southwest Presbyterian Church in Detroit. In recent years Jim has participated in additional studies at the Birmingham-Bloomfield Art Association.
Awards & Exhibits:
Illustrator for Snady by Sandy Ranger
Illustrator for Realms of Terswood by Jamie Samland
Illustrator for Trials of Throk'tar by Jamie Samland
Illustrator for Miracle in a Small Mountain Town by Allen Autrey
Featured at:

BizzyBuz Artist Shop, Rochester, Mi
Frameworks, Plymouth, MI
Lilacs Gallery, Mackinac Island, MI
Northgoods, Petoskey, MI
The Art House, Northville, MI
Huron Valley Council of Arts, Highland, MI
Detroit Artist Market, Detroit, MI
Detroit Historical Museum, Detroit, MI

First Place in the Allen Park 2014 Street Art Fair
Illustrations for the book Miracle in a Small Mountain Town by Allen Autry
First Place, 2014 St.Clair Fine Art Festival, Members Competition
2nd Place Allen Park 2013 Street Festival
Arts and Apples (Rochester, Michigan)
Royal Oak Fine Art show (Royal Oak, Michigan)
Petoskey Fine Art Show (Petoskey, Michigan)
Harbor Springs Fine Arts (Harbor Springs, Michigan)
First Place,2010 Artrageous Fine Art Show,Sterling Hts.
2006 Featured artist at Artragous (American Center, Southfield, MI)
2005 Best of Show (Rochester Heritage Festival
2002 Art of Living Award Winter Art Show (Lake Orion)
Jim's "Hudsons, The Real Christmas Store" was featured at The Detroit Historical Museum in 1999 and 2000